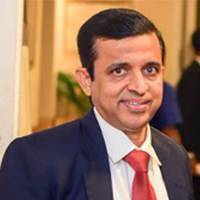 PROF. K.M. NALIN DE SILVA
---
Senior Professor of Chemistry and Consultant of Nanotechnology
University of Colombo,
Sri Lanka.

Prof. K.M. Nalin de silva is a Professor in Chemistry at the University of Colombo, Sri Lanka. He obtained his B.Sc.(Chemistry, First Class, 1992) from the University of Colombo, Sri Lanka and Ph.D. (1997) from the University of Cambridge, UK. He has gained postdoctoral experience from University of Cambridge(1998) and Louisiana State University, USA (2005 – 2007). He has active collaborations with Centre for Advanced Microstructures and Devices (CAMD) of Louisiana State University and Department of Chemistry, University of Massachusetts, Lowell, USA. He was also a Research and Development Consultant (2010) for Haycarb PL, Sri Lanka. Presently he is working as a Science Team Leader in Sri Lanka Institute of Nanotechnology, Sri Lanka. He was the Director of Career Guidance Unit (2002 – 2005) of University of Colombo. He won the Presidential Research Award for four consecutive years and a National Research Award presented by National Science Foundation (NSF), Sri Lanka. He was also named 'Young Scientist of the Year' in 2004 by the Third World Academy of Science (TWAS) and NSF. He is member of the National Nanotechnology Committee at NSF for drafting the National Nanotechnology Policy of Sri Lanka and a member of the subcommittee under the National Committee for Popularization of Science, to popularize Nanotechnology in Sri Lanka. He is the recipient of Professor P.P.G.L Siriwardena Gold Medal Oration Award and Devanathan Memorial Award for research. He was also a Visiting Professor at Sultan Qaboos University, Sultanate of Oman.