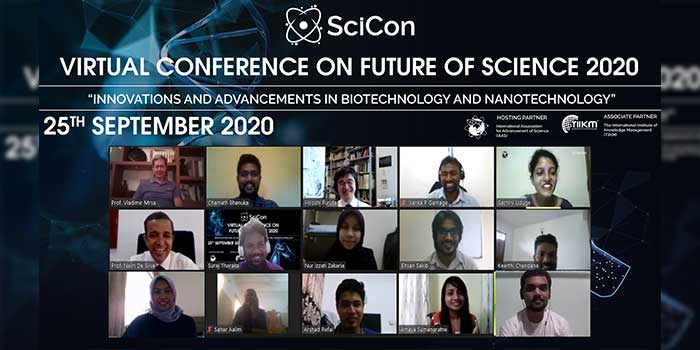 VIRTUAL CONFERENCE ON FUTURE OF SCIENCE (SCICON 2020)
September is a very important month for the IAAS (International Association for Advancement of Science). The members of IAAS was able to organize their first ever virtual conference successfully which is titled as The Virtual Conference on Future of Science 2020 (SciCon 2020).
SciCon was successfully held on the 25th of September 2020 on ZOOM with delegates and students representing 10 countries. The theme of the conference was "𝐈𝐧𝐧𝐨𝐯𝐚𝐭𝐢𝐨𝐧𝐬 𝐚𝐧𝐝 𝐀𝐝𝐯𝐚𝐧𝐜𝐞𝐦𝐞𝐧𝐭𝐬 𝐢𝐧 𝐁𝐢𝐨𝐭𝐞𝐜𝐡𝐧𝐨𝐥𝐨𝐠𝐲 𝐚𝐧𝐝 𝐍𝐚𝐧𝐨𝐭𝐞𝐜𝐡𝐧𝐨𝐥𝐨𝐠𝐲". Prof. Nalin de Silva, Senior Professor of Chemistry and Consultant of Nanotechnology, University of Colombo, Sri Lanka was the conference chair while Prof. Dr. Vladimir Mrša from University of Zagreb, Croatia and Prof. Hiroshi Furuta from Kochi University of Technology, Japan were keynote speakers.
Prof. Vladimir has conducted research in the field of protein glycosylation and secretion, as well as cell wall biosynthesis in fungi. Professor Mrša has published 50 scientific papers which have been cited over 1000 times according to Web of Science. Besides, he has published 2 patents and has been an invited lecturer at a number of domestic and international meetings. He is an active member of the Croatian Society for Biochemistry and Molecular Biology, Croatian Microbiological Society and Croatian Society for Biotechnology.
Prof. Hiroshi is a Professor in the Departure of Electronic and Photonic Systems Engineering, Kochi University of Technology, Kochi, Japan. His research interests include application of carbon nanotubes, growth process of carbon nanomaterials, plasma process for thin film technology, and metamaterials. His keynote speech was "Carbon Nanotube Metamaterials for the Future Energy Devices"
The conference participants demonstrated their research  knowledge in various fields of nano science and biotechnology. At the end of the day the conference was a grand success and lots of good feedback received from the audience.
Written by,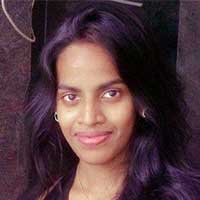 – Ruksheela Bangamuwage –